Historic Ghost Photograph: The Tulip Staircase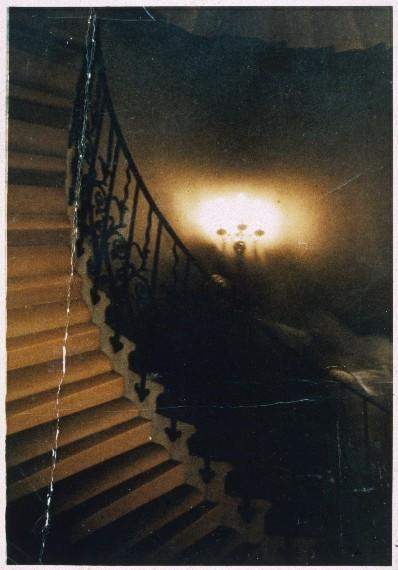 The Tulip Staircase was taken by Rev. Ralph Hardy on June 19, 1966, at the Queen's House section of the National Museum in Greenwich, England. Hardy was a retired clergyman from White Rock, British Columbia. His intent was to take a photograph of the elegant spiral staircase (better known as the "Tulip Staircase"). It wasn't until he developed the pictures that he noticed a shrouded figure in the photo.
At the time the photograph was taken (between 5:15 and 5:30 pm) there was no one on the stairs and the stairway was closed with a rope and "No Admittance" sign. Furthermore, Hardy's wife was standing behind him and did not see anyone on the stairs when Hardy took the photograph. Experts, including several from Kodak, examined the original negative of the photograph and could not find any tampering.
The Hardys returned a year later and attempted to recreate the photograph, but had no luck. The photograph was taken with a Zeiss Ikon Contina camera with a Zavar Anastigmat lens and skylight haze filter. He was using K2 daylight film. The camera was handheld, resting on a ledge and the exposure was estimated to be just over a second.
The Location
The Queen's House was commissioned by Anne of Denmark , wife to King James I. It was designed to be a private retreat for the couple. Work began on the place in 1616, but stopped when the queen became ill in 1619. Later, King Charles I decided to have it completed for his wife, Queen Henrietta Maria. It was finally completed in 1635. The house underwent restoration in the 1980s, which has established it a representation of the house circa 1660.
Other Ghostly Phenomenon
Unexplained figures have been seen along with the sound of unexplained footsteps have occurred around the staircase. A figure of a pale woman frantically mopping around the bottom of the tulip staircase has also been seen. According to the legend, a maid was thrown from the highest banister and plunged 50 feet to her death. The woman appears to be cleaning up after that tragedy.
Other ghostly phenomenon at the Queen's House include unexplained coral chanting of children, doors that slam by themselves, tourists being pinched, and a woman in white-gray dress.