Famous Ghost Photograph: Bachelor's Grove's Madonna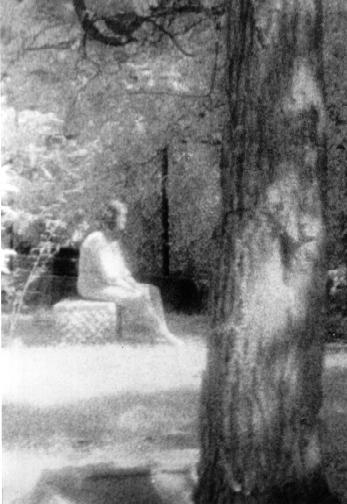 This photograph was taken on August 10, 1991 by Mari Huff, a member of the Ghost Research Society. The photograph is one of several taken at Bachelor's Grove Cemetery in Midlothian, Illinois. Huff reports she was using a high-speed monochromatic film to photograph areas where they had detected electromagnetic anomalies.
The image, known as the Madonna of Bachelor's Grove, is of an unidentified woman in a period dress. You'll notice that most of her body seems solid but a few parts are partially transparent.
It is believed that the photograph is of a young mother who is buried in the cemetery next to her infant son. Legend also has it that this mother can be seen strolling through the cemetery carrying her baby on nights there is a full moon. Some claim that the woman is a "Mrs. Rogers." But the only record of a Mrs. Rogers associated with the cemetery is that of Luella Fulton Rogers, who died at the age of 65.
I'm afraid this picture falls into the category where I could argue its authenticity either way. It seems too perfect to be a hoax, and I doubt an entire group would be able to keep their silence if it had been faked. Also, the image of the woman doesn't quite look real enough to be a double exposure.
Then again, I am always skeptical of images that were taken in black and white, when color was readily available. Especially since this photograph was taken as part of a paranormal investigation and not part of an art project (which might make the use of black and white film seem credible). Also, the photograph is so perfectly centered, when there is nothing else in the photograph to focus on.
For more information, check out my page on Bachelor's Grove Cemetery.